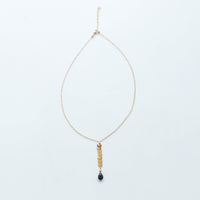 Reef Necklaces in Gold with Black Spinel
Our Reef Necklaces are an everyday staple for your jewelry box. These elegant necklaces are handmade in-store using gems from our collection. Each one has gemstone properties that benefit the wearer.  Great for gifting or coveting for yourself! Shown here is Black Spinel.
Handmade in Sayulita
Gem measures 10mm
Gold-plate pendant measures 2 inches
Gold-fill chain adjustable between 16-18 inches
We are located on the Pacific Coast of Mexico, all orders to Mexico ship FREE.
Orders over $50 shipped to the USA and Canada also receive FREE SHIPPING!!
For orders under $50 to the US and Canada we charge a flat shipping fee of $15 for Fedex Global Express Shipping
For international shipping to most other countries, we offer:
FedEx Ground - $30 flat rate. All purchases over $300 USD receive free shipping.  Click to read more about customs and shipping policies.
Feel free to contact us for more shipping options!.
Customer satisfaction is very important to us. We want you to love your new jewelry! If for any reason you're not 100% satisfied with your order please feel free to contact us with your invoice number & we will send you our returns form. We will refund any item purchased on our website that you are not completely happy with when you return it to us in a re-sellable condition by post within 14 days of receipt.
We have been custom designing jewelry for our customers since the day we opened in 2004.  Designing unique jewelry together with our clients is a part of our heritage!  We now offer this same service online, we are happy to offer personalized design to all our customers worldwide. To start the process its important to understand what falls within the realm of possibilities.  We are able to create custom orders based on the techniques and styles that are currently available on this website, our Instagram or Facebook page, as well as in our physical location.  We are not able to create designs that are outside of our skill set. Feel free to contact us for any custom inquiries!